MANY OF YOU KNOW AND LOVE TORI NEAL. SHE HAS CHANGED CAREERS FROM HYGIENIST TO REAL ESTATE AGENT! WE ARE REALLY SORRY TO SEE HER LEAVE! AT LEAST WE'LL GET TO SEE HER WHEN SHE VISITS HER DAD! JOIN US IN WISHING TORI A SUCCESSFUL CAREER!
AND INTRODUCING OUR NEW FRONT DESK PERSON, CINDY MINER. CINDY COMES TO US WITH A LOT OF DENTAL EXPERIENCE. WE ARE WORKING HARD TO SHOW CINDY ALL THE TRICKS OF OUR SYSTEM. WE FEEL VERY FORTUNATE TO HAVE FOUND A PERFECT FIT FOR OUR OFFICE!
WE ARE PLEASED TO ANNOUNCE THE LATEST EDITION TO OUR HYGEINE DEPARTMENT! LEAH TETREAULT COMES TO US WITH OVER 20 YEARS OF HYGIENE EXPERIENCE. SHE IS A GENTLE, CARING, AND LOVES WELCOMING PATIENTS OLD AND NEW. YOU'LL BE PLEASED TO MEET HER!
but wait, there's more!
PLEASE JOIN US IN WELCOMING JODY DAVIS AS OUR NEW FRONT DESK GIRL. ANOTHER LUCKY FIND FOR US! JODY HAS WORKED MANY FRONT DESK POSITIONS IN HER CAREER AND WILL BE A PERFECT FIT FOR US. WE ARE HOPING THAT WE DON'T SCARE HER AWAY!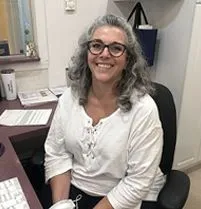 INTRODUCING JODY DAVIS!
WELCOME TO OUR OFFICE JODY!
THERE'S MORE!
WE WERE INCREDIBLY LUCKY IN TODAYS STAFFING SHORTAGE TO FIND A FABULOUS NHTI 2022 GRADUATE TO FILL OUR VACANCY. PLEASE HELP US WELCOME DANIELLE SHILLERIFF AS OUR NEWEST HYGIENIST. DANIELLE HAS A GREAT SENSE OF HUMOR, A PASSION FOR LEARNING, AND A GENTLE AND COMPASSIONATE NATURE.
ALL THIS, AND SHE'S A LOCAL!
WE KNOW YOU WILL LOVE HER!
WELCOME DANIELLE!
BUT WAIT, THERE'S MORE!
CAN YOU BELIEVE THIS? NOW WE ARE LOSING BRENNA AT THE FRONT DESK. WE HAVE HAD SO MUCH FUN AND DON'T WANT TO SEE HER GO. WE AREN'T SURE WHERE WE WENT WRONG, BUT NOW SHE IS MOVING TO CONNECTICUT. WE WILL MISS HER BIG SMILE AND SENSE OF HUMOR!
WE'LL ALWAYS SMILE WHEN WE THINK OF YOU BRU!
WE ARE ALL SAD TO SEE ONE OF OUR MOST ENERGETIC HYGIENISTS LEAVING THE FIELD OF DENTISTRY. KRISTINA'S INCREDIBLE PASSION FOR TRAIL RUNNING IN THE WHITE MOUNTAINS HAS LED HER IN A NEW DIRECTION. SHE HAS FOUNDED A NEW COMPANY THAT COMBINES HER ENERGY AND EXPERTISE AS AN ELITE ATHLETE TO COACH OTHERS TO SUCCESS! IF YOU WANT TO ENTER ONE OF HER RACES OR WOULD JUST LIKE TO KNOW MORE ABOUT WHAT SHE IS DOING, GOOGLE "WHITE MOUNTAIN ENDURANCE RACES." WE WILL ALL MISS HER SO MUCH!
BEST WISHES AND HAPPY TRAILS TO YOU KRISTINA!